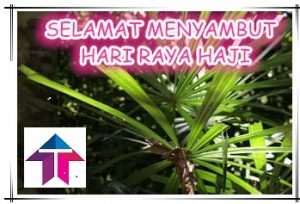 In every Raya Celebration either its Aidil Fitri or Aidil Adha, for some places in Malaysia, ketupat Daun Palas is a must. Ketupat Pulut or ketupat daun palas is made from glutinous rice and is usually wrapped in a triangular shape using the leaves of the fan palm (Licuala).
"Palas Tree (licuala triphylla) grows in the wild in Kelantan, Pahang and Kedah. To those who don't use the leaves for making ketupat, the plant is rare. It is only for such occasions as Raya that the demand for the leaves increases. Then you will see people selling them in the market.
The unopened shoot in the shape of a sword is the part required. Once it is opened the leaves become useless. "
This unique and special food that need some technique to fold the leaves should not be forgotten to the next generation. In the past, the activity to prepare the leaves and folding it to the triangle shape is a family activity that gather the family members young and old togather.
We at TMQ car rental wishing to all Muslim happy Eidul Adha and to everyone may this holiday bring us joy and happiness. Salam.